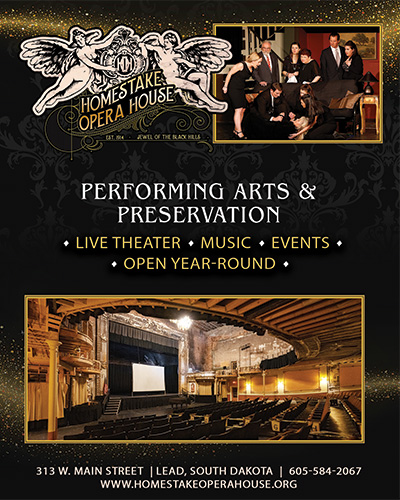 Does your business need swag? How about new business cards or a banner for an upcoming event? We can literally print anything. We work with many reputable and local print companies to provide you with the highest-quality, cost-effective and professional products.
-Apparel
-Banners
-Pens
-Flyers
-Business Cards
-Stickers
-Postcards
-Water Bottles
-Magnets
-Brochures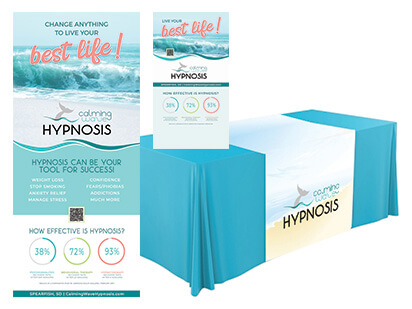 Calming Wave Hypnosis
Trade Show Display
Tracy, hypnotherapist, attends trade shows to help spread the message about her hypnosis clinic. She needed a professional and eye-catching display to draw people into her booth. We created a large banner and table runner that can withstand travel.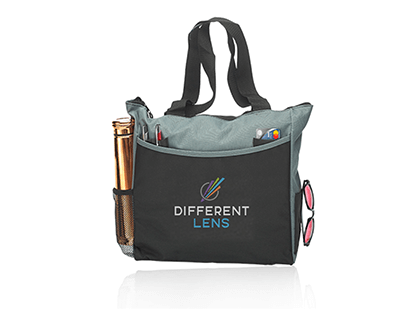 Different Lens
Promotional Products
As a new initiative under the John T. Vucurevich Foundation, Different Lens needed promotional products to spread awareness about poverty in Rapid City. We were able to provide them with top-of-the-line water bottles, tote bags, notebooks and more.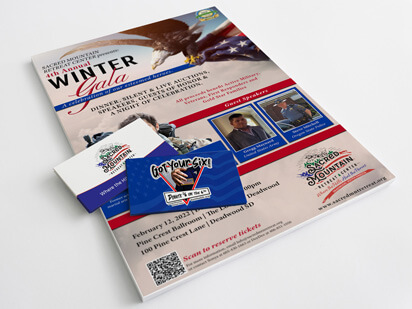 Sacred Mountain Retreat Center
All Print Materials
SMRC is a growing non-profit with many events throughout the year. We create and print brochures, rack cards, business cards, promotional flyers, swag and large displays. All of these products together help create awareness of their mission.
What kind of promotional products do you offer?
Pretty much anything you can think of! We have established relationships with many different companies and suppliers over the years and work to get the best pricing on products for our customers. We work hard to find products locally.
Will you print my flyers, posters, business cards, etc., in-house?
As much as we would love to do everything in-house, we work with some amazing local and online vendors to do our printing for us. If you prefer to use local print shops, let us know! We have many who we throw business at on a regular basis.
How long will it take to receive my print or promotional products?
Time varies for sure. It could be an hour or a month. But no matter what the time frame, we will give you an estimated in-hands date before placing your order. If you are in a time crunch, we will do our best to receive the items in time. We cannot ever guarantee an in-hands date as we have no control over delivery and shipping services.
What if I find an error after printing?
We take pride in error-free work and have many eyes on each project before sending your project to you for final approval before print. In the very rare event that something is printed with an error, we get sad and do everything we can to fix or replace your product. If it is an error on the printer's end, they are very great to work with in making it right. If it is an error that was overlooked on your end at final approval, the product must still be paid for in full.