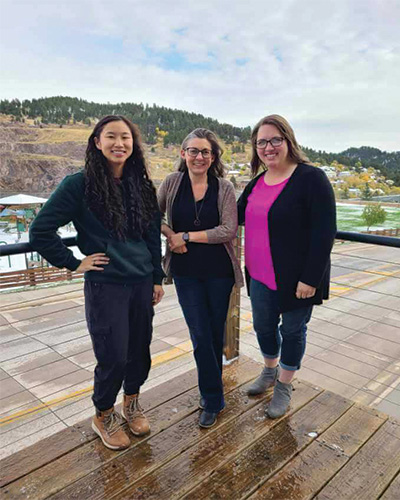 We started Mile Up in 2016 because we saw a need for someone to help small businesses with their marketing. The name 'Mile Up Marketing' came easy to us as it is an homage to the town we both love, Lead, at 5280′ above sea level – a Mile Up.
With over 25 years combined marketing experience, Mile Up Marketing specializes in web design, graphic design, digital advertising and social media management.
Our favorite thing is to help a business or organization create a brand. We love to strategize with them about how they want the world to see their business, from look and feel, to mission, values, and goals. Then we build a logo, brand and website to get their business off the ground.
We love to be a company's marketing department. Instead of an internal marketing department, we work with businesses and non-profits to build their marketing strategy and follow through with website development, advertising and social media management.
In 2021, Mile Up Marketing welcomed Evelyn as a marketing specialist, and we've now expanded to a team of four with the addition of Sarah Canida, our on-site social media specialist.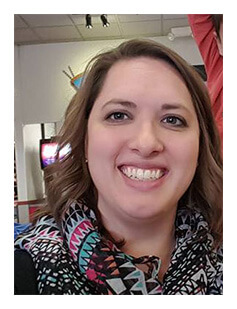 Luci Seid
Owner/Web Designer
Luci, a graduate from Northern State in Aberdeen with a degree in Management and Marketing, brings a wealth of experience to our team. Prior to founding Mile Up Marketing, she served as the Marketing Director for two casino resorts. Luci is our expert in web design and digital advertising, ensuring our clients receive top-notch solutions tailored to their needs.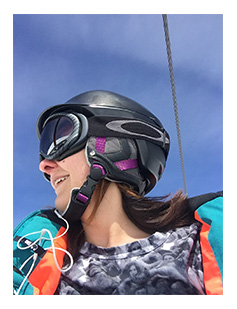 Kim Borsch
Owner/Graphic Designer
Kim's journey began in the Marketing Department of a casino resort, where she excelled as their Event Coordinator. She's the creative powerhouse of our team, demonstrating exceptional talent in graphic design. Furthermore, she serves as the adept social media manager for various business and non-profit accounts, showcasing her multifaceted skills.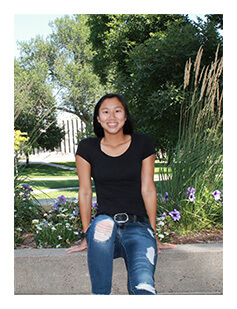 Evelyn Groeger
Marketing Specialist
Evelyn, a graduate from the University of Sioux Falls with a degree in Graphic Design and minors in Marketing and Media Studies, joined our Mile Up Team in 2021. Since then, she has played a pivotal role in overseeing various projects, including graphic design and web design, showcasing her expertise and dedication.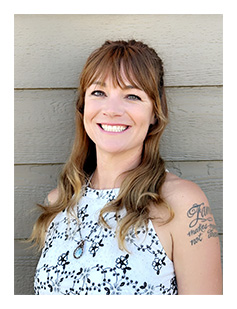 Sarah Canida
Social Media Specialist
Sarah's 15 years of social media experience bring a wealth of knowledge and expertise to our team, ensuring our clients receive top-notch strategies tailored to their online goals. Her infectious charm and creativity make her an ideal partner for clients seeking a robust online presence. With captivating Facebook Live videos and original content, her work effortlessly attracts a broad audience.
What's your favorite food?
Luci: Wine
Kim: Chips & Salsa
Evelyn: Hibachi steak, rice, and noodles.
Sarah: Spicy Nepalese
How many pets do you have?
Luci: Waylon – St. Bernard/Gigantic ball of floof and slobber
Kim: Mr. Thomson – Pomeranian/Pekingese/Poodle/All attitude
Luci: Waylon – St. Bernard/Gigantic ball of floof and slobber
Evelyn: Cha Cha, Spook, Winnie, and Tigger – Best cats ever
Sarah: Stevie Licks (Shorkie) Milli Vanilli (Mini Aussie)
What do you like doing in your free time?
Luci: Puzzling and spending time with family
Kim: Hiking with doggo, snowboarding and puzzling
Evelyn: Hiking, kayaking, paddle boarding, biking and camping
Sarah: Sauna & cold plunge in creek, yoga, theatre, outdoors dinner with friends and spending time with my children.
Would you rather live in a world with Pokémon or dinosaurs?
Luci: Pokémon because that's all my young boys talk about so I feel we are already friends.
Kim: Dinosaurs because I've always wanted to ride a triceratops.
Evelyn: Pokémon because I'd like a Munchlax to be my food buddy.
Sarah: I don't know anything about Pokémon and living with dinosaurs sounds like an adventure, so dinosaurs it is!